You and the love of your life are now engaged and planning your wedding. One of the most challenging yet crucial tasks while planning a wedding is deciding upon a venue. From the venue's environment and the package inclusions to how it aligns with your ultimate vision, it can be very overwhelming with multiple factors to consider.
In this article, we've broken it down into five easy steps for confidently choosing your dream wedding venue.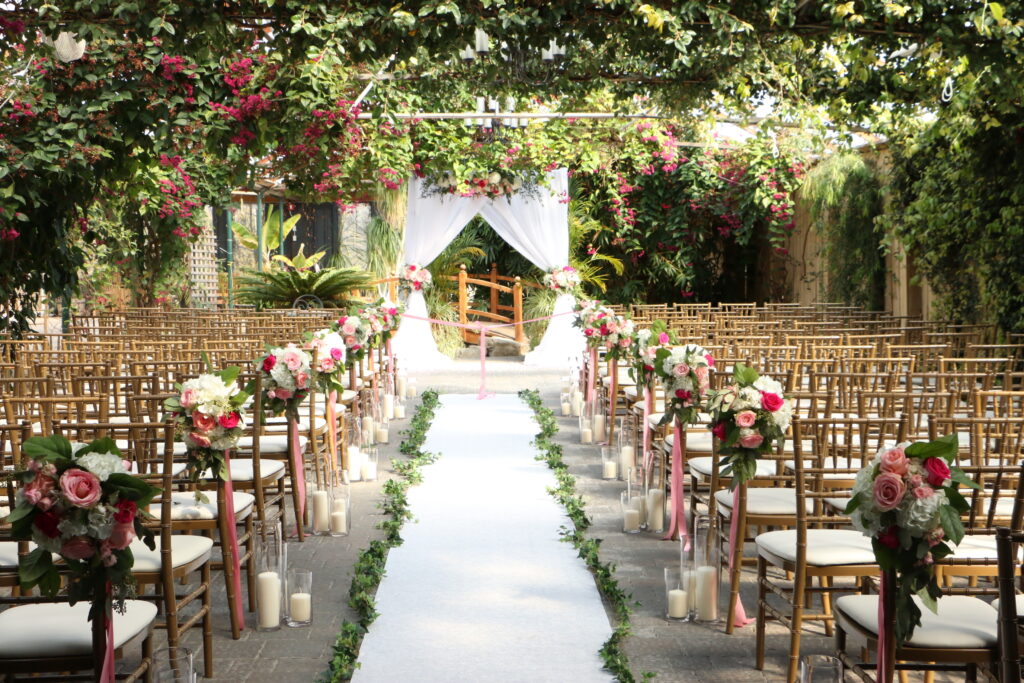 1. Get in Touch With a Wedding Planner
There's no problem in asking for help! Try not to have one future spouse take over all the wedding planning. Enlisting the help of a wedding planner will ensure you and your significant other are equally heard and able to find the perfect wedding venue for your needs.
Wedding planners bring a lot to the table. Afterall, they are the experts in the wedding world! Search google for wedding planner reviews or ask around in the community. Keep in mind that your wedding planner will become an invaluable and integral asset in making your wedding a success, so you'll want to be sure your personalities match. Be clear about your vision, budget, and all non-negotiables.
2. Find a Few Potential Venues and Get Tours&
Once you or your wedding planner have decided upon a few potential venues, visit and get a tour of each one. Ask questions such as:
●       Is your venue available for our chosen wedding day?
●       If not, find out if there is a date nearby your chosen wedding date in which the venue is available.
●       Be sure the date works for you and your significant other.
●       How many guests can your venue accommodate?
●       What is included in the venue booking package?
●       Are the colors of tables and chairs customizable?
●       What dish options do you have available to serve the guests?
Don't forget to take notes as you tour each venue, so you can compare and contrast the perks and accommodations once you sit down together and make the final decision.
3. Budget Considerations
Consider how much of your budget you'd like to allot to go towards your venue. Starting with your guest list, determine how many people you plan to invite. Certain venues accommodate large parties or small ones. Typically, the more guests that you plan to invite, the higher the venue price tag will be.
If your venue budget is on the lower side, consider renting a fire hall where it will cost a base payment for the rental rather than per guest. Fire halls can usually accommodate around 100 people depending on the occupancy rate of the building. This means you will have to hire your own catering company, rent your own tables and chairs, and possibly hire additional wedding staff. Hence the importance of weighing your options and seeing what will work best for within your venue budget.
If you have a higher budget and do not mind paying per guest, go to a local restaurant that caters weddings. While you will have to pay more for these venues, you will not have to worry about hiring an outside catering company or renting tables and chairs as the restaurant will already have those amenities provided.
4. Compare and Contrast What's Included in Venue Booking Packages
Unless you're working with an unlimited budget, you're going to want to consider getting the most for your money. This will likely look different for each and every couple. Take a look at this list of considerations and rank them from most important to least important when venue searching.
●        Menu and food quality
●        Décor and overall ambiance
●        Staff personality
●        Availability
●        Bridal accommodations (bridal suite?)
●        Additional perks-do they provide a cake? DJ? Etc.
5. Envision Everyone's Experience
As you assess venues, consider the experience that all of your guests will be having. Ask yourself questions such as:
●       Will your guests be served their food or have to serve themselves buffet style?
●       Are there any dietary restrictions that a guest may have?
●       Can the venue accommodate said dietary restrictions for this guest to still enjoy the event and the food?
●       What does the dance space look like?
●       Are the restrooms in good, clean condition?
Remember It's You and Your Significant Other's Wedding!
Your wedding day should be all about you and your significant other! Make it the day of your dreams and try to tune out other opinions. If you involve too many family members and friends with the details of the venues, they could judge and offer up their own opinions, clouding your judgement and vision. Pick the venue that fits how you envision your wedding and be prepared to live it up on your big day!