Ok, sure, anybody at the wedding can snap photos with their smartphone. But some guests could be so caught up in the fun that they forget to even take a picture of the moment. So, don't count on Aunt Sally to capture the cake cutting ceremony!
That's why so many people choose to hire a wedding photographer whose sole mission is to capture all the moments at your wedding. There's nothing like photographer quality photos that can be turned into magical social media posts, lovely picture frames hanging on the wall at home, and photo albums of memories that last a lifetime.
Here are the 4 steps on how to find a wedding photographer.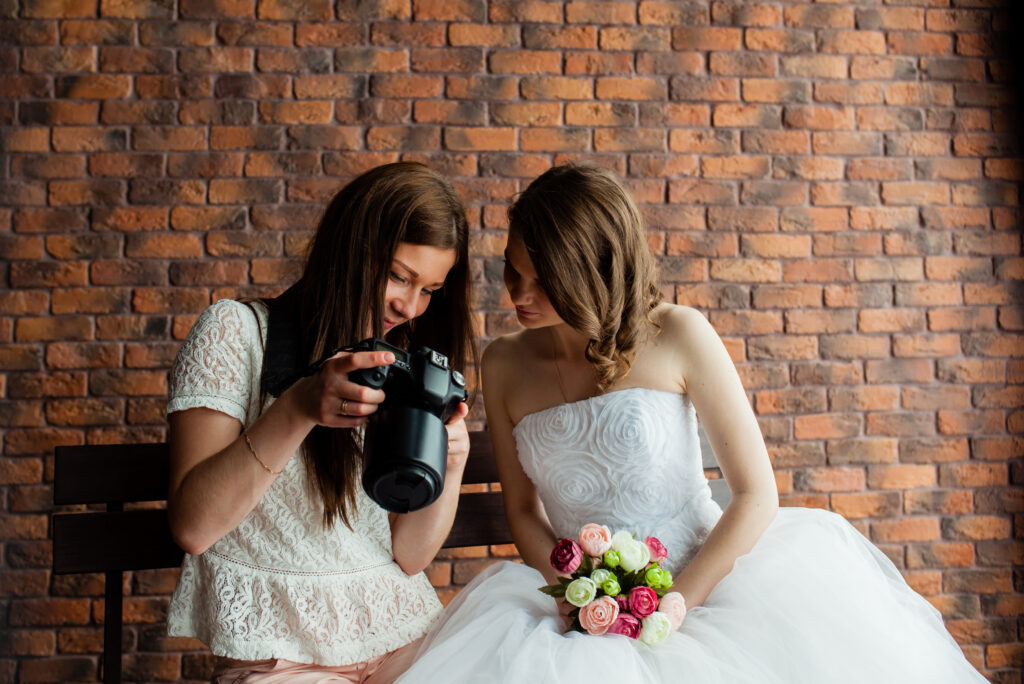 1. Check Out WeddingWire
Start your wedding photographer search on a site like Wedding Wire. You can search not only for wedding photographers in your local area, but also venues, dress shops, registry tools, creating invitations, and more!
Go to the "Vendors" section on the top of the page and click photography. Type in the city and state in which you will be hosting your wedding and click "Search". You will find all the photographers that serve that local area.
On each listing, you will see a most popular price listed for you to compare and contrast how much you will pay out-of-pocket for different photographers in the area.
Consider viewing a variety of price ranges. Sometimes spending a little more on photography will get you better quality photos which means better quality memories for the years to come. You can view samples of the photographer or photography company's work within the post as well to assist you in making your final decision.
2. Compare and Contrast Photography Portfolios
Whether you use WeddingWire to find your local photographer or visit photography companies in person only, take a look at the photographer's portfolio. Check out their blog, website, or Instagram account for portfolio samples before scheduling that in-person meeting.
Ask yourself these questions:
Do I like the way this photographer takes their photos?
Are the photos in the portfolio high quality?
How does the photographer use the environment around him or her to accentuate the photo quality in capturing the moment?
Does the photographer do a variety of different photo types or just a special kind?

Do photos mostly have 2-4 people in them, a large group, or a mix of both?

What camera brands are used to take these photos?

You may find this information in their portfolio.
If not, call the photographer and simply ask.

Are the camera brands reputable and high quality or create a lower quality picture?
3. Schedule an In-Person Meeting with the Photographer
You want your photographer to essentially be the life of the party. They going to be the one capturing all the awesome moments of your special day. Hence, they must chime in on some of the conversations going on at the wedding as a preface to before taking a photo to make the experience more natural.
The photographer should be:
Outgoing.
Sociable.
Charismatic.
Charming.
Happy.
Love what they do.
Schedule an in-person meeting with your photographer to see if they have all of these qualities. Ask their process for taking pictures whether they go around and take pictures of the moments happening organically and/or if they offer photo booths for people to take pictures at their own leisure during the event.
4. Consider Finding Photography Assistants
You don't want to put all the work specifically on one photographer, especially if you are hosting a large wedding. Maybe one photographer is good for weddings with 50 guests or less. However, weddings with 100 plus guests should have Photography Assistants involved to help the Lead Photographer, ensuring all the magical moments are captured.
Each photographer would have their own photo focus. The Lead Photographer may be the one taking photos of the bride and groom. One Photography Assistant may photograph reactions from family members and friends as well as the mini gatherings at the venue tables going on at the wedding. Another Photography Assistant (if you have 200 or more guests) may take pictures at different angles to make it more like a storybook effect when the photos are all put together.
Find a Photographer That Fits Your Vision and Style!
As you comb through the different portfolios of local photographers, you will find a photographer that fits the vision of your wedding and the overall style you desire for your special day to be captured. Take your time in your search and consider all your options before agreeing to service from a photographer or photography company. A seemingly simple task should not be taken lightly as you are hiring the individual who will capture the most memorable day of your life!